Winchester housing developments blocked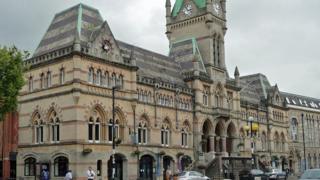 A fifth proposed housing development has been blocked in Winchester, after all of the developers withdrew planning appeals.
In the latest case, Linden Homes has shelved a plan for up to 350 homes at Pitt Vale.
The firm originally proposed 500 homes on the site in 2014.
Winchester City Council said it had succeeded because it was one of few authorities with an up to date Local Plan to control development.
'Unsuitable development'
Council leader Caroline Horrill said: "This proposal for large-scale housing on a prominent greenfield site had caused consternation to local residents.
"It was in direct conflict with our Local Plan... which enables the council to resist proposals for unsuitable development."
In 2016, a committee of MPs reported that a third of local authorities had not yet adopted Local Plans.
The council adopted its Local Plan Part 2, covering development management and site allocations, in April.
Linden Homes had said it would argue at the appeal that Winchester did not have an adequate five-year supply of land for housing.
The authority said the argument had been previously dismissed by planning inspectors in April in two appeals brought by Bargate Homes over land at Colden Common.
Since then, it said, two further planning appeals had been withdrawn by developers at Top Field, Kings Worthy, and Main Road, Otterbourne.
In a statement, Linden Homes said: "We have decided to withdraw the appeal at Vale Farm following a review of recent decisions elsewhere in the Winchester district.
"Regardless of this, we will continue to promote the site through the forthcoming review of the Winchester District Local Plan."