Round the Island Race record beaten by one minute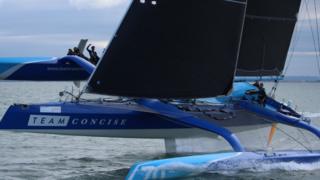 A new record has been set in one of the world's largest yacht races, taking place around the Isle of Wight.
Organisers of the 81st Round the Island Race said "favourable winds" had enabled MOD70 Concise 10 to beat last year's record by one minute.
Skipper Ned Collier-Wakefield and his team finished the 50-nautical mile race in two hours, 22 minutes and 23 seconds.
The previous record was set last year by Lloyd Thornburg's MOD70 Phaedo3.
In 2013, Olympic champion Sir Ben Ainslie completed the course in two hours and 52 minutes.
The one-day race is believed to be the fourth largest participation sporting event in the UK after the London Marathon and the Great North and South Runs.
Organisers said 1,342 boats started the race, which begins and ends at Cowes and attracts about 16,000 sailors from across the UK, Europe and the US, in rain and brisk winds.
"But, despite this damp start the skies have since become much clearer, the clouds have broken, the rain has gone and the sun is shining," a spokeswoman said.
"Though the conditions may not have been conducive to lounging in the sun, they certainly gave all of the sailors a fast ride down to the Needles."
Several yachts pulled out and someone was taken off one boat by the RNLI due to a "possible ruptured appendix", the spokeswoman added.
The coastguard said it had also been called to "a number of injuries on board vessels", while some boats had run aground.
A number of craft lost their masts and several people were injured during last year's race.
In 2015, seven people were rescued and 70 boats pulled out in 2012 due to strong winds.
The event is celebrating its 86th year, with the first race taking place in 1931 with 25 entries.
It is only race 81 however, as the event did not take place for five years during World War Two.