Red Funnel ferry operator sold to pension funds group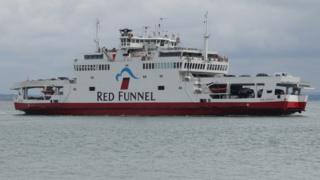 Isle of Wight ferry operator Red Funnel has been sold to a UK and Canadian pension funds group.
More than 400 people work for the company, which had been owned by Infracapital - part of Prudential.
Red Funnel refused to say how much it was sold for.
But it said the sale was not related to plans for a new terminal in East Cowes being rejected by the council last year. It added operations and fares would be unaffected.
The firm said a consortium, led by the West Midlands Pension Fund and the Workplace Safety and Insurance Board of the Province of Ontario, had bought the firm.
Michael Campbell, director of the consortium, said: "We are pleased to continue the tradition of investment in this proud 150-year-old company."
Proposals for the new terminal, which would have led to the demolition of a number of businesses and homes on Dover Road using compulsory purchase orders, were refused in April 2016.
Councillors raised concerns that more than 100 marine engineering jobs could be lost.
The firm later mooted plans for a new two-phase plan to expand the terminal, which it said would leave nearby properties unaffected in the short-term with longer-term plans to relocate businesses.
Red Funnel had been owned by Infracapital for 10 years.
It carried more than 873,000 vehicles and 3.4 million passengers last year, compared to 555,000 vehicles and 3.0 million passengers in 2006, the firm said.