Cowes 'floating bridge' charges resume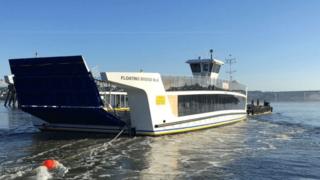 Charges have resumed for the Isle of Wight's troubled "floating bridge" after being waived due to problems with the new vessel.
About 300 people were left stranded after an electrical fault on Friday.
Since launching in May the chain ferry has broken down, run aground, cars have scrapped bumpers getting on and off and it does not run at low tide.
Isle of Wight Council said it was "trying its best" to restore a full service.
Fees were suspended last month following the introduction of a limited timetable before further chain adjustments planned for 10 July.
Foot passengers and cyclists are charged £1.50, while motorists are charged £2.60 for the crossing between Cowes and East Cowes.
'Teething problems'
Since launching on 14 May the chain ferry has broken down, run aground and was suspended for a time by the Maritime and Coastguard Agency due to "training issues".
Shopkeeper Angie Boothe said the loss of footfall had been "catastrophic" for local shops.
"Small businesses have been bearing the burden for a project that has failed from the drawing board. The council has to be made responsible," she added.
Transport councillor Ian Ward said engineers were "working their way through problems".
"I know residents are disappointed and angry. The council is trying its best to get the vessel into service. We are dealing with a brand new vessel - it will have teething problems, I know it shouldn't but logic tells you that is bound to happen."
---
Floating bridge timeline:
13 May - vessel launched
14 May - broke down
15 May - service suspended by MCA
7 June - ran aground first time
9 June - ran aground for a second time
9 June - council said it had cleared "silt build up that caused the floating bridge to ground"
10 June - ran aground a third time
12 & 13 June - taken out of service twice each day at low tide
30 June - breaks down due to electrical fault
---