Southampton teacher banned over pupil relationship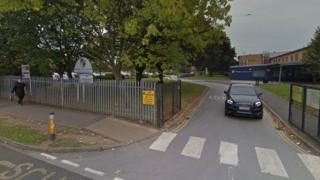 A teacher has been banned from teaching for life over an "inappropriate relationship" with a teenage pupil.
Alexander Barker, 24 was accused of giving gifts to a student and asking her to stay at his house while he was a teacher at Redbridge Community School, Southampton.
His actions were uncovered through Facebook messages between them.
A National College for Teaching and Leadership panel found him guilty of unacceptable professional conduct.
The newly-qualified maths teacher, who left the school in March 2016, was also found to have brought the profession into disrepute.
The panel saw 154 pages of Facebook messages between Barker and the Year 11 pupil - referred to as Pupil A - which were sent in the same month.
It also heard he hugged or touched the girl's arm, invited her to stay overnight in his spare room and gave her a necklace as a gift.
'Emotional maturity'
Mr Barker was also accused of breaking the school's guidelines for safeguarding pupils.
The panel found that none of the messages were "overtly sexual or directly suggestive".
"The panel accepts Mr Barker's evidence that his behaviour was a misguided attempt to help Pupil A, and that his concern for her welfare was his overriding motivation," its report said.
It concluded his behaviour demonstrated "a lack of emotional maturity and empathy".
"The lack of insight means that there is a serious risk of the repetition of this behaviour and this risks future pupils' well-being and safeguarding."
Mr Barker was given a prohibition order banning him for teaching at any educational establishment in England.
Hampshire Constabulary said a 24-year-old man had been arrested on suspicion of meeting a girl under 16 following grooming.
But after an investigation it was decided no further action would be taken against the man due to insufficient evidence.