Southampton's FestivALL axed over poor ticket sales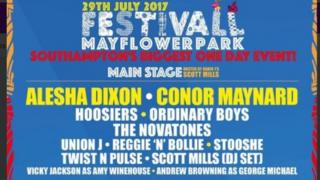 A one-day music festival in Southampton has been cancelled because of poor ticket sales.
FestivALL at Mayflower Park was due to feature Alesha Dixon, The Hoosiers and a DJ set by Scott Mills on 29 July.
Organisers said ticket sales fell after the Manchester terror attack and again after the London Bridge attack.
A spokesman said one of its directors had also recently fallen victim to an unspecified crime, which resulted in the loss of festival funds.
In a statement, organisers said: "Unfortunately, the events of the last six weeks could never have been forecast and the effect has been unprecedented.
"The terror attacks in Manchester and London have seen a significant reduction in ticket sales and the entertainment industry has felt the impact."
Festival director Annaliese Hughes said: "Our ticket sales were looking really quite strong up until May.
"In addition, my co-director has been the victim of quite a serious crime which... has had quite catastrophic consequences on the festival project continuing."
The statement said all ticketholders would receive full refunds within 14 days.