Portsmouth HMS Invincible excavation wins lottery support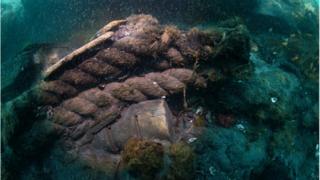 A project to excavate a warship wrecked in the Solent in 1758 has won lottery funding support.
HMS Invincible - built by the French in 1744 and captured by the British in 1747 - is believed to be one of the most significant warships ever built.
Teams of archaeologists have already dived on the wreck and it is hoped hundreds of artefacts can be retrieved and put on public display.
Development funding of £16,400 has been awarded by the Heritage Lottery Fund.
The HMS Invincible 1744 Project plans to apply for a full grant of £425,900 to "excavate, record, conserve and display" the ship's remains.
The 74-gun ship was lost when her rudder jammed and she ran aground on a sandbank between Langstone Harbour and the Isle of Wight, capsizing three days later.
The ship's design was "copied globally" and her class became the "backbone of the Royal Navy" until the steam age, the National Museum of the Royal Navy (NMRN) said.
The museum said Invincible's remains were "the most complete and best preserved of a warship from the mid-18th Century".
Prof Dominic Tweddle, the museum's director general, said: "We have a handful of artefacts on show already from Invincible and cannot wait to preserve and display as many as 500 more."
The project is being led by the NMRN, Maritime Archaeology Sea Trust (MAST) and Bournemouth University.
In 2016, MAST was awarded a £2m Libor grant, from fines levied on the banking industry, to address the "critical risk" to the wreck.
Divers began excavating and removing artefacts in May.
HMS Invincible was listed by English Heritage in 2013 as among the top 10 most at risk heritage sites in the country.
When the archaeological work is complete, exhibitions will be hosted by both Chatham and Portsmouth Historic Dockyards