Isle of Wight tidal energy scheme 'put on hold'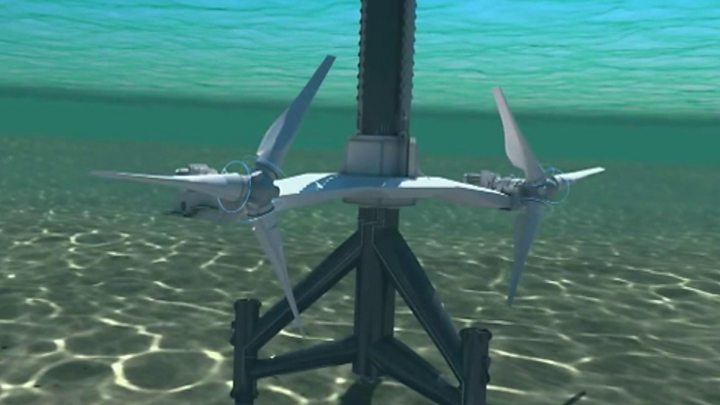 Plans for a large tidal energy scheme in the English Channel have been put on hold, Isle of Wight Council has said.
Perpetuus Tidal Energy Centre (PTEC) had previously said it would begin "full operations" south of the island from 2020.
It has not bid for a government contract to supply energy by the year 2023, the authority revealed.
Isle of Wight Council said all work was "in abeyance" because PTEC was unable to compete on price with offshore wind.
The authority, which made a £1m unsecured loan to PTEC in 2013, said the money might never be repaid.
In April 2016, PTEC secured approval for up to 60 sea bed turbines off St Catherine's Point.
The company had said the 30-megawatt project would demonstrate the potential for "the commercialisation of tidal energy".
PTEC said it had not begun construction in 2016 or 2017 as it originally hoped.
It did not enter a government auction in April to bid for a Contract for Difference, which gives a guaranteed minimum price for energy supply.
In November, the government announced it was removing a ring-fence around money for wave and tidal projects in the auction "because costs remain high as a result of their early development stage".
Isle of Wight Council said any bid by PTEC would have been "unlikely to succeed as they could not compete with any offshore wind bid".
Professor AbuBakr Bahaj, head of the University of Southampton's Energy and Climate Change Division, said Contracts for Difference were tidal energy's "achilles heel".
"It is very difficult now to get anyone to invest any money," he added.
Green Party councillor Michael Lilley said he was concerned about the Isle of Wight Council's £1m loan.
"In times of cuts to important social services, the council cannot afford to make investment losses."
In a statement, PTEC said it aimed to "commence initial electricity generation" during 2020-21.
It added it was "calling on the government to include wave and tidal power in the upcoming industrial strategy".
The Department for Business, Energy and Industrial Strategy said the Isle of Wight project did not "meet the requirements for the Contract for Difference auction."
A spokesman said: "These projects... need to deliver energy for at least 15 years, protecting taxpayers' money."