UKIP homeless 'detritus' comments: Councillor's motion defeated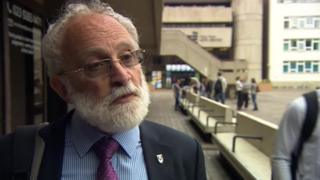 A motion referring to homeless people in Portsmouth as "unwelcome detritus" has been defeated in a council meeting.
UKIP councillor Colin Galloway proposed the motion to the city council, calling for police to "forcibly remove" rough sleepers from the city.
Only Mr Galloway and a UKIP colleague voted in favour, with Conservative, Labour, Liberal Democrat and independent councillors voting against.
Homeless charity Crisis had branded the comments "offensive and toxic".
Mr Galloway had called for the council to write to the Police and Crime Commissioner Michael Lane asking for the police to "help us clean up this unwelcome detritus" and allow officers to remove people and take them to an assessment centre.
Speaking before the meeting, Mr Galloway said he was glad he had "got everybody's attention".
"The issue is that we seem to be ignoring these people - we're stepping over them as if they don't exist. They all have individual stories to tell and complex needs. There's something broken in our country and I'm glad people are coming together because of this motion - let's get it solved."
A small protest was held outside the Guildhall before the meeting. Campaigner for the homeless Alan Burgess who spoke in the council chamber, said the motion's wording was "wholly unacceptable" and called on the UKIP councillor to resign and apologise.
The authority estimates its number of rough sleepers has risen from 37 last autumn to 60 in May.