Disused New Forest hotel hit by 'heartbreaking' vandalism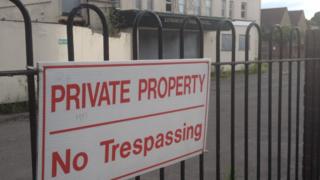 Vandalism to a disused New Forest hotel is "heartbreaking" as well as a safety hazard, campaigners have said.
Developer PegasusLife's plans to replace Lyndhurst Park Hotel with 74 pensioner flats and 12 holiday lets were rejected by the park authority in February.
Photographs posted online appear to show extensive damage, including to a Victorian stained glass window.
PegasusLife said it was committed to making the site "safe and secure".
The hotel, which is not listed, was originally built as a private mansion house - Glasshayes House - in the early 19th Century. It was once linked to smuggling and was visited by Treasure Island author Robert Louis Stevenson.
The Friends of Glasshayes House group posted pictures - which it said were sent to it anonymously - appearing to show destruction of a 19th Century stained glass window of the "Rufus Stirrup" - a medieval device used to stop dogs on royal hunting grounds.
Campaigner and parish councillor Caroline Wilkins said it was a "gratuitous destruction of New Forest heritage" and said the developers had failed to secure the building.
"It's heartbreaking that is gone - it has survived two world wars and 100 years as a hotel. Its value was known but Pegasus failed to protect it."
She said residents have raised concerns about anti-social behaviour by intruders, thought to be from outside the area.
PegasusLife said the vandalism was "mindless" and the site was still subject to security patrols.
Development director Grant Drummond said: "We are equally concerned about the site and the impact on people living nearby.
"We are taking every practicable measure to minimise opportunities for unlawful access to the site and to reduce the associated risks."
He added the company would consider re-applying to erect hoardings to secure the perimeter, which it had previously been refused permission for.
Hampshire Constabulary said police had been called to the building on several occasions following reports of anti-social behaviour. It added there were issues regarding "officer safety" due to the condition of the site.