Eastney Falklands Yomper statue move to museum dropped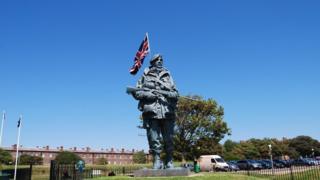 Plans to move a statue of a Royal Marine in the Falklands conflict from Portsmouth seafront to a museum have been scrapped.
The Yomper stands on Eastney seafront in front of the Royal Marines Museum.
The decision by the National Museum of the Royal Navy (NMRN) follows a year-long public consultation which gathered more than 3,000 responses.
NMRN had wanted to move the statue when it relocates the Royal Marines Museum to Portsmouth Historic Dockyard.
'Over the moon'
NMRN director general, Dominic Tweddle, said: "We are very pleased that we went out to public consultation and those against the move put together a great, persuasive campaign.
"The board was moved by the strength of public feeling about the Yomper and easily convinced of the proud place it occupies on the seafront."
Phil Saunders, who led the campaign to keep the Yomper in its current location, said: "I'm over the moon.
"It was wrong to think about taking it away from somewhere visible and accessible to people and putting it into a museum where you have to pay to see it."
Unveiled by former prime minister Lady Thatcher in 1992, it depicts a royal marine marching across the islands during the 1982 conflict.
It was created by sculptor by Philip Jackson.