Driver who rammed Hampshire police roadblock jailed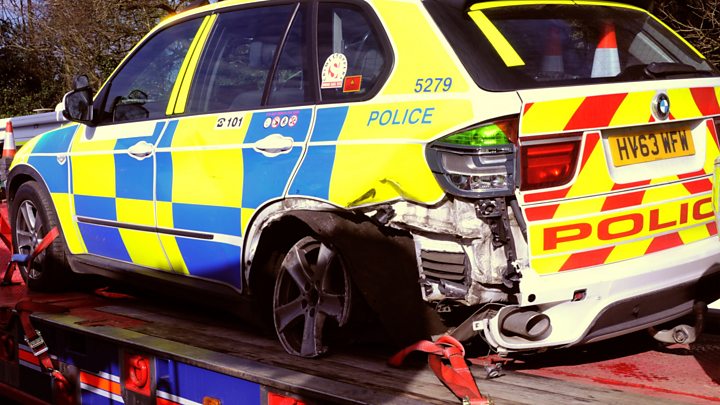 A drunken driver rammed a police roadblock at high speed after becoming depressed over a failed relationship, a court has heard.
Three police officers were injured and two police cars written off in the crash on the M27 in Hampshire in April.
Martin Ralfs, 58, from Southampton, had previously admitted dangerous driving, drinking and driving, failing to stop and breaches of a restraining order.
He was jailed for two years at Southampton Crown Court.
Judge Peter Ralls QC said it was a "miracle" Ralf's "appalling driving" had not resulted in death or serious injury.
The court heard a 23-mile pursuit began when Ralfs overtook a marked police BMW on the M27 westbound at about 01:45 BST on 2 April.
Ralfs' Honda Accord struck a pursuing police car before turning back eastwards at St Leonards roundabout in Dorset.
The chase continued at speeds of up to about 127mph (204km/h) to Cadnam, where police had set up a rolling roadblock with three marked cars.
Ralfs, of Whitworth Crescent, ploughed into two of the vehicles, causing whiplash injuries to three occupants, before coming to a halt.
One of the vehicles spun and crashed into the central reservation while the other spun into the carriageway, both losing a rear wheel and suffering extensive damage.
Ralfs told officers at the scene: "I just want to die. I don't want to be here any more."
Andrea Becker, defending, said Ralfs had "ruined his life" over a relationship with a former partner.
She said his driving offences and restraining order breaches arose from a "mental breakdown" when the relationship was ending.
Sgt Mark Furse from Hampshire's Roads Policing Unit said: "It was sheer luck that no one was seriously injured or killed as a result of Mr Ralfs' reckless driving".