Solent oysters 'starting to reproduce'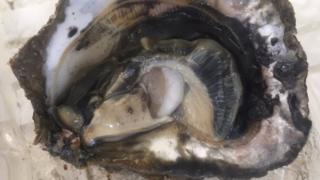 Oysters reintroduced to the Solent in a bid to revive fishing in the area are starting to reproduce, project organisers have said.
About 10,000 juveniles were transferred to cages at six sites in April.
Blue Marine Foundation said there had been a 90% survival rate with some having grown by an inch (2.5cm), while others had begun to spawn.
Critically endangered eels have also been discovered in the cages.
Oyster fishing in the Solent was banned after the Inshore Fisheries and Conservation Project found the molluscs were failing to reproduce as a result of water quality, invasive species and over fishing.
A pilot project, involving adult oysters, was previously held at the site of Olympic champion Sir Ben Ainslie's racing team and at the University of Portsmouth's raft in Langstone Harbour.
Following its success, juveniles were then transferred to cages at those two sites, as well as at four other marinas.
Morven Robertson, of Blue Marine Foundation, said some of the oysters had now started to spawn - whereby the female oyster releases eggs, the male oyster releases sperm, and they fuse in the water.
She said the group would now assess how much larvae is produced and where it settles on the sea floor.
Nine European eels have also been found in some cages.
They are classed as "a commercially important species that is threatened with extinction" due to international trade, according to the International Union for Conservation of Nature (IUCN).
A final report on the project is expected in 2021.