Prince Harry praises Portsmouth mine warfare monument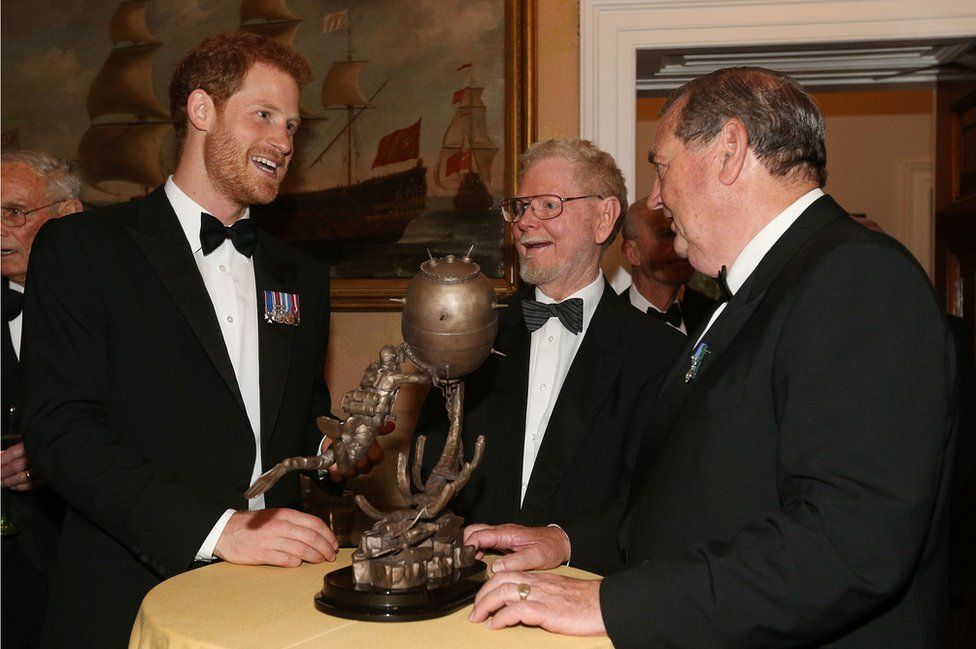 Prince Harry has praised a "fantastic" sculpture in honour of Royal Navy mine warfare and diving teams.
The prince attended a reception organised by the project's fundraisers.
He was shown a scaled-down model of the planned statue of a mine and a diver, which campaigners hope to install at a shopping centre in Portsmouth.
The Gunwharf Quays site was formerly occupied by the HMS Vernon shore establishment, where diving, mining and mine-clearance operations were based.
Australian sculptor Les Johnson said the prince was "amazed" with his design, showing a diver attaching an explosive charge to a mine.
"I explained to him it's going to be one-and-a-half times life-size," Mr Johnson said.
"The diver will be 9ft long, and the mine 7ft tall, and he was quite surprised."
The 13-tonne bronze, steel and stone statue is due to be installed in Vernon Creek, a shopping centre water feature formerly occupied by Royal Navy minehunters.
It will be the first monument to commemorate the work of HMS Vernon, which left the site in 1996.
The Vernon Monument charity said it was more than two-thirds of the way towards its fundraising target of £325,000.
It said the sculpture would take two years to complete once started.
During a 40-minute reception at Trinity House, London, the prince told one man: "I really hope it goes well".
Charity spokesman Rob Hoole said the prince's attendance, in his role as commodore-in-chief, small ships and diving, was a "great tribute to the project".
Related Internet Links
The BBC is not responsible for the content of external sites.