Cheeki Rafiki deaths: Stormforce Coaching goes bust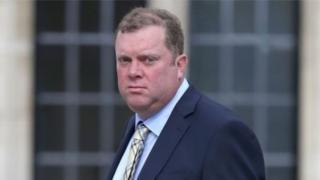 The operator of a boat which capsized leading to the deaths of four men has ceased trading, its director has said.
Douglas Innes, 42, of Stormforce Coaching, had been responsible for the Cheeki Rafiki, which lost its keel 700 miles off Nova Scotia in May 2014.
Both Mr Innes and Stormforce were convicted on 14 July of failing to ensure the safety of the vessel.
Mr Innes said, following the trial, the Royal Yachting Association (RYA) had suspended the firm's accreditation.
More on this and other stories from across the South of England
Posting the announcement on the firm's website, he added: "Without accreditations we were unable to trade and we ceased trading a few days later, while we sought professional advice.
"Without the ongoing income from its core product, the company is unable to fund its outgoings and has therefore become insolvent.
"I am working with other industry members to try and relocate as many bookings as possible."
The jury at Winchester Crown Court was discharged after failing to reach verdicts on four manslaughter charges, which will be the subject of a retrial.
Andrew Bridge, 22, from Farnham in Surrey, James Male, 22, from Southampton, Steve Warren, 52, and Paul Goslin, 56, both from Somerset, had been returning the 40ft (12m) vessel to Southampton from Antigua Sailing Week when it capsized in the Atlantic.
The overturned hull of the Cheeki Rafiki was discovered by a US Navy warship east of Cape Cod with the life raft but no sign of the four men.
Their bodies have never been found.