Portsmouth father jailed for failing to return children to UK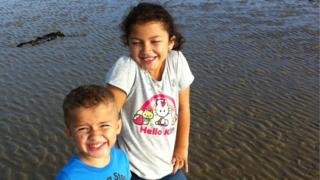 A father who was jailed for abducting his children has been imprisoned again for failing to return them to the UK.
Usama Al Barwani, from Portsmouth, took his daughter, Aishah, now 12, and his nine-year-old son Faris to Oman in 2012.
The Family Division of the High Court heard their "desperate" mother, Lacey Plato, had campaigned for five years to be reunited with them.
Al Barwani was jailed for a year for contempt of court by Mrs Justice Theis.
She said he had repeatedly breached court orders relating to the children's return.
The judge added that it was hard to think of "a more damaging and harmful act for a parent to do to his children".
'Shameless liar'
Ms Plato, from Portsmouth, said the children phoned her within minutes of the hearing to rebuke her for successfully applying to have their father jailed for contempt of court.
She added: "I was devastated. I told them 'you're angry at the wrong person but I understand'."
Ms Plato said the phone call was orchestrated by Al Barwani's father, who was with the children in Muscat.
She claimed she had previously offered Al Barwani full custody of the children in England.
"What he's done is child abuse. I don't know why he refuses to return them. We have no answers."
At previous hearings, High Court judges have described Al Barwani as "wicked" and a "shameless liar".
He was released from prison in November after serving half of a four-year sentence for child abduction.