HMS Victory work starts to prevent warship's collapse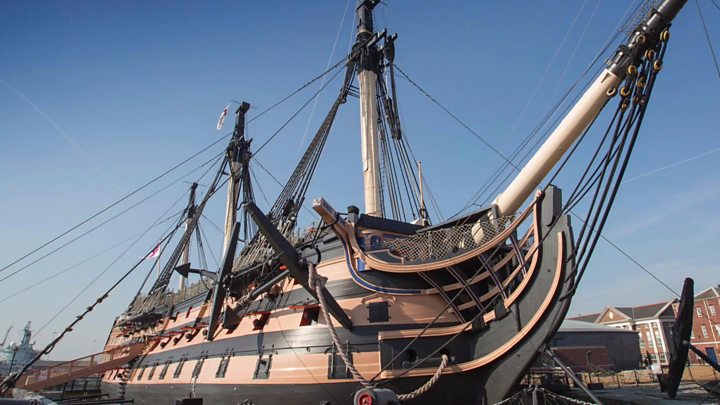 Work has begun on a £3m project to prevent Nelson's flagship HMS Victory from collapsing under its own weight.
The ship's hull is sagging in the giant cradles which have supported it in dry dock in Portsmouth since 1925.
The structure is bulging at a rate of 0.5cm a year, threatening "irreversible damage", the National Museum of the Royal Navy said.
Restorers will spend 18 months replacing the cradles with 134 adjustable steel props.
Project director Andrew Baines said the props would "cradle the ship much like she would be in water."
He said: "Over the last 40 years, all the outer planking of the ship has been replaced.
"The outer planks held the hull in place but, like a corset, with its strings loosened, the hull is now moving and bulging."
A 3D scan of the ship helped experts design the solution, Mr Baines said.
The 15ft (4.5m) props, made by BAE Systems, will be fitted on two levels to support the ship's 2,000-tonne weight.
Each prop has a sensor which monitors the load and can be adjusted in length.
HMS Victory was first floated out from Chatham in 1765. Lord Nelson was injured during the Battle of Trafalgar in 1805 and later died aboard the vessel.
A £35m project to conserve and refurbish the ship began in 2011, including the removal of masts and yards to allow work to prevent water leaks and to reduce rot.
HMS Victory will remain open to visitors while the work takes place.