Winchester flooding defence scheme completed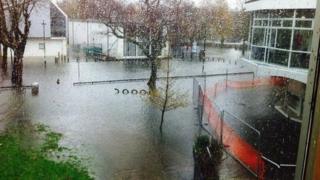 A flood defence scheme designed to protect parts of Winchester deluged during winter storms in 2014 has been completed.
The military was drafted in to help build flood defences when the River Itchen burst its banks three years ago.
The £900,000 scheme includes a reinforced brick wall with floods gates which can be operational in 20 minutes.
Winchester City Council assistant planning director Andy Hickman said he hoped it would "never be tested".
North Walls and Park Avenue including St Bede School and The Art College was hit by flooding in 2010 as well as February 2014.
The flood defence wall has been constructed in red brick to match existing walls in the area, but its foundation has been constructed out of reinforced concrete to resist water pressures.
Mr Hickman recalled "a very nervous time" in February 2014 as council staff and soldiers fought to stack sandbags to prevent damage to properties.
He said flood defence schemes were being phased in with one at Water Lane already built and one at Durngate Bridge in the pipeline.
"You have to get funding in place, there's a lot of design, consultation and modelling of the scheme. It does take time, but it has to be done properly," he added.
The scheme, which has been jointly funded by Winchester City and Hampshire County Councils, the Environment Agency and the University of Southampton was officially unveiled at a ceremony earlier.