East Cowes ferry terminal: Red Funnel planning appeal upheld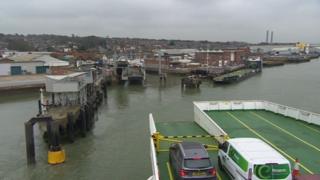 An expansion of ferry operator Red Funnel's terminal facilities on the Isle of Wight is set to go ahead after a planning appeal was upheld.
The cross-Solent ferry firm's plans for a new terminal, and up to 100 homes as well as retail and leisure premises at East Cowes were refused by Isle of Wight Council in April 2016.
Red Funnel lodged an appeal which the Planning Inspectorate has upheld.
The firm said it would "facilitate growth in the island's economy".
Residents living on Dover Street, who face having to move out of their homes, and owners of business units at Venture Quays were among those who protested against the scheme.
Councillors also raised concerns that more than 100 marine engineering jobs would be lost as industrial units at Venture Quays are demolished.
However, the Planning Inspectorate report said consultation with the local community had been "adequate".
"The scheme would ensure that Red Funnel operations are more effective and efficient.
"This would provide an enhanced service for residents, businesses and visitors alike," the report said.
The decision means construction work can go ahead with the company promising to publish a timeline of work in September.
A statement from the ferry company said: "Red Funnel now has the approval it needs to build a 21st Century ferry terminal which will facilitate growth in the Island's economy for decades to come as well as resolving the traffic congestion in East Cowes and facilitating the regeneration of the town centre."