Solent sandbank cricket match adopts pink ball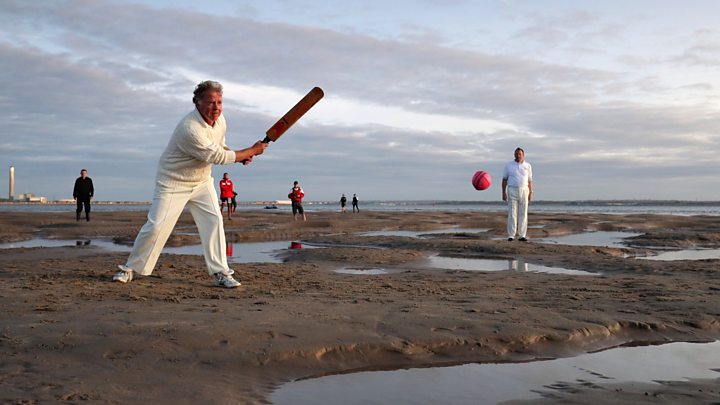 The annual cricket match played on a sandbank in the middle of the Solent has taken place, using a pink ball for the first time.
Island Sailing Club play Royal Southern Yacht Club in a light-hearted challenge on when it is exposed by the low-water spring tide.
Pink cricket balls have also been used in day-night competitive matches this season.
Player Dr Mark Tomson said this year's playing space was "enormous".
The annual game has taken place at the same location since the 1950s, with the teams taking it in turn to win the fixture - this year was Royal Southern's turn to take the trophy.
Royal Southern captain Dr Tomson said: "We look very carefully when we pick a low tide, but the bank varies from year to year with the movement of sand in the Solent.
"We have an enormous bank this year - it is the size of three or four football pitches."
Swimmers and boat teams were on standby to retrieve the new-style pink ball if it went into the sea.
Pink balls were used in the England v West Indies day-night test and some County Championship matches under floodlights earlier this season.
Bramble Bank can be a troublesome navigational hazard for ships in the Solent.
In 2015 the car transporter ship Hoegh Osaka hit the sandbank and in November 2008 it caused the QE2 liner to run aground.