Portsmouth tower blocks cladding removal 'delays'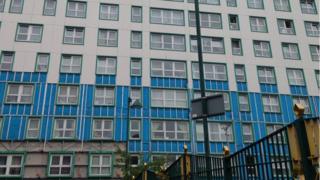 Cladding has not been removed from two residential tower blocks in Hampshire, more than two months after the Grenfell Tower disaster.
Horatia House and Leamington House in Portsmouth have aluminium composite cladding which has been identified as a "fire risk" in tests.
Resident Tony Snook said the city council had "dawdled" over the work.
The authority said the delays were due to preparation work, including booking scaffolding and ground surveys.
At least 80 people are thought to have died in the Grenfell fire in North Kensington, west London, on 14 June.
Aluminium cladding is thought to have contributed to the spread of the blaze.
Mr Snook, who lives on the 16th floor of Leamington House, said he was "annoyed" that Portsmouth City Council had "not acted quickly enough" to remove cladding.
Another resident, Michelle Bates, said: "I would like to see the councillors here all the time instead of swanning around the dockyard... Your people are your priority."
Portsmouth City Council said it had removed the first panels from Horatia House in June and had resumed work on Monday.
Council leader Donna Jones said: "The delays are not about a lack of money, the delays are about the preparation work that needs to go into a job of this enormity.
"The reason the cladding was taken off initially very quickly up to the eighth floor was that's how high a cherry-picker can go.
"Beyond the eighth floor we have to put up specialist scaffolding which requires ground testing and a structural engineer's report."
Ms Jones said the £10m project to replace the cladding would last "for the best part of the next year".
She said the council had not removed any cladding from Leamington House because it would have exposed flats to rain and damp.
The 600 residents, protected by 24-hour fire marshals, were "extremely safe", Ms Jones added.
The authority has said it faced a £12.2m bill to retro-fit sprinkler systems in the 18-storey blocks.