Troubled £3.2m Cowes 'floating bridge' taken out of service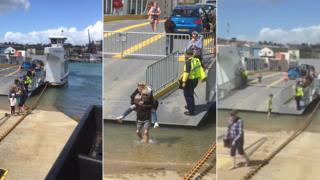 A £3.2m chain ferry is to be withdrawn from service until further notice after suffering numerous failures since it started operating in May.
The Cowes "floating bridge" will be replaced on Monday by a reduced service for foot passengers only, Isle of Wight Council said.
The authority said it had instructed lawyers to advise on contract issues.
Mainstay Marine, which built the ferry, said it had not been told the reasons for the council's decision.
Floating Bridge No 6 has suffered several suspensions and break-downs in its three months of service.
In June, the vessel ran aground three times and was replaced by a launch at low tide.
And last month, it was taken out of service at night because of noise levels measured as "well above World Health Organisation guidelines" in council tests.
The authority has previously said it would consider compensation claims from drivers whose cars have scraped their bumpers getting on and off.
Council leader Dave Stewart said: "It is simply not acceptable that the vessel still cannot operate at all states of the tide.
"Over £3 million of public money has been spent, through the Local Enterprise Partnership on this new vessel and expectations have not yet been met; we need to get it put right."
He said the authority had formally written to both the ferry's designers and builders instructing them to propose solutions.
Stewart Graves, managing director of Pembroke Dock-based Mainstay Marine, said: "We've had no communications as to exactly why they're doing it. We are awaiting details."
The replacement vessel from Monday will not operate between 10:00 and 13:00 on weekdays or between 10:00 and 17:00 at weekends.
---
Floating bridge timeline:
13 May - Vessel launched
14 May - Broke down
15 May - Service suspended by MCA
7 June - Ran aground
9 June - Ran aground for a second time
9 June - Council said it had cleared "silt build up that caused the floating bridge to ground"
10 June - Ran aground a third time
13 June to 3 July - Taken out of service at low tide
30 June - Broke down due to electrical fault
21 July - Withdrawn from service at night due to noise levels
4 September - Withdrawn from service indefinitely
---