Army flying memorial unveiled at Middle Wallop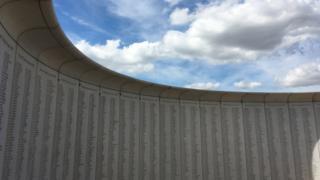 A tribute to more than 5,000 military personnel killed while involved in army aviation has been unveiled.
The memorial at the Museum of Army Flying in Middle Wallop, Hampshire, marks the 60th anniversary of the formation of the Army Air Corps (AAC).
It bears the names of 5,127 people killed in action, from World War One up to recent campaigns.
Museum chief executive Chris Munns said it was a "unique and innovative design".
"The museum tells the story of British Army flying and a lot of people have died in the service of that - it's important to commemorate them and where better than the place where we tell the story," he added.
The memorial is the only one which lists the names of aircrew, support staff and ground crews of the Royal Flying Corps, Air Observation Post Squadrons, Glider Pilot Regiment, Army Air Corps and attached personnel who have lost their lives.
The circular memorial has been built alongside the airfield with the names inscribed on 39 panels inside the wall.
It was officially opened during a service led by the Chaplains of AAC Middle Wallop with a flypast of the Army's Historic Aircraft Flight.