Cowes Floating Bridge ferry replacement: Fares 'will not be scrapped'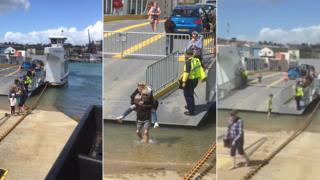 Councillors have rejected pleas to scrap charges for a ferry service that replaced a £3.2m chain ferry.
Cowes Floating Bridge on the Isle of Wight suffered numerous failures when it began operating in May and was taken out of service earlier this month.
Members of the public had called for fees on the replacement foot-passenger-only service to be suspended.
The council's cabinet said it was too expensive to offer free fares, but said it would look into subsidising them.
No details for subsidies have been released yet.
This is one of "many possible options", deputy leader of the council Stuart Hutchinson said, following the cabinet's decision on Thursday night.
"The service is not a statutory requirement but we recognise it is needed by residents to cross the river," he added.
"What we are looking at is providing a service which mirrors the service passengers would have received, if the floating bridge was in place."
The replacement "Jenny boat" service, which costs £1,000 a day to run, does not offer as many crossings, he added.
"We need a fix for the floating bridge as soon as we can. We need to force the people who designed and built it to get it right as soon as they can."
Stewart Graves, managing director of Pembroke Dock-based Mainstay Marine, previously said the company had had "no communications" as to why the ferry had been taken out of service.
He has not responded yet to the latest BBC request for comment.
A final decision on whether or not to suspend fares will be made by full council.
The authority said £515,000 costs had been incurred so far because of the loss of income from the failed floating bridge, built by Mainstay Marine.
---
Floating bridge timeline:
13 May - Vessel launched
14 May - Broke down
15 May - Service suspended by MCA
7 June - Ran aground
9 June - Ran aground for a second time
9 June - Council said it had cleared "silt build up that caused the floating bridge to ground"
10 June - Ran aground a third time
13 June to 3 July - Taken out of service at low tide
30 June - Broke down because of an electrical fault
21 July - Withdrawn from service at night owing to noise levels
4 September - Withdrawn from service indefinitely
---