Queen Victoria's Urdu workbook on show at Osborne House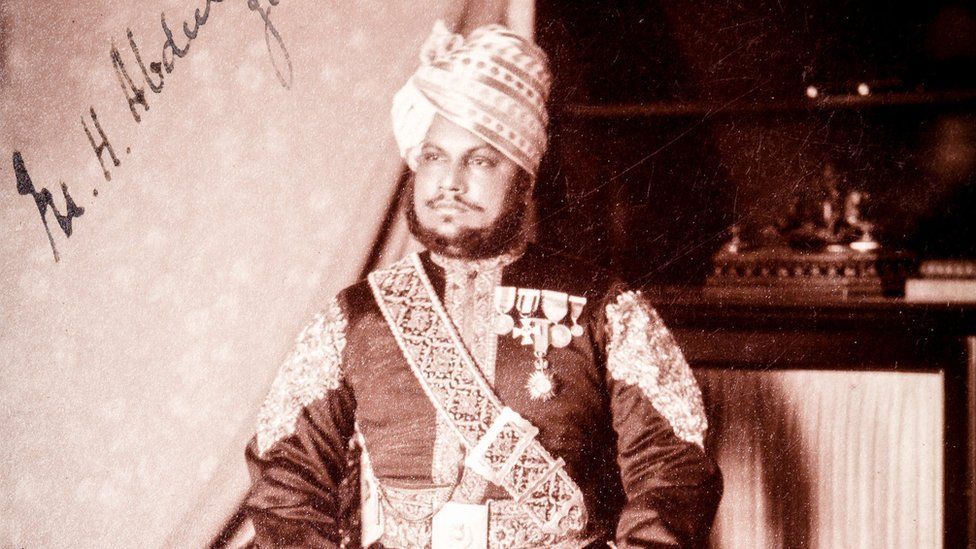 A rarely-seen workbook showing how Queen Victoria learned to write Urdu from a cherished Indian servant has gone on public display.
The monarch began to take writing lessons from Abdul Karim in 1887.
The book is on show at the queen's former residence, Osborne House, Isle of Wight, to mark the release of the feature film, Victoria & Abdul.
Osborne curator Michael Hunter said it gave an "intimate glimpse" into the relationship.
Abdul Karim was 24 when he arrived in England from Agra to wait at table during Queen Victoria's golden jubilee in 1887.
Within a year, the young Muslim was established as a powerful figure in court, becoming the queen's teacher - or munshi - and instructing her in Urdu and Indian affairs.
'Passionate relationship'
She used them to update her book, Victoria and Abdul, which details the pair's "passionate relationship... that sent shockwaves through the royal court."
At the time of publication in 2011, Ms Basu said: "The queen signed letters to him as 'your loving mother' and 'your closest friend'.
"On some occasions, she even signed off her letters with a flurry of kisses - a highly unusual thing to do at that time."
A feature film based on the book, and starring Dame Judi Dench and Ali Fazal, has opened in UK cinemas.
Mr Hunter said it was an honour to have the queen's workbook back in Osborne House where it was originally written.
"It's fascinating to see this elaborate script in her own handwriting, and the painstaking way that Abdul set out the lessons", he said.
The 1895 book is one of eight surviving volumes which are rarely loaned out by the Royal Archives, he said.
Related Internet Links
The BBC is not responsible for the content of external sites.