Council pledges to reopen 'mothballed' Ryde ice rink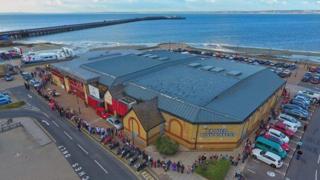 A debt-ridden ice rink which has been closed for almost a year will reopen, councillors have vowed.
Ryde Arena on the Isle of Wight was shut in October by bailiffs, 18 months after being taken over by a community group.
AEW UK, which owns the building, said Ryde Arena Ltd owed about £200,000 in rent arrears and terminated its lease.
The island's authority said as landlord, it condemned AEW UK's actions in leaving the rink "mothballed".
At a meeting on Wednesday, councillors unanimously backed a motion by Conservative Wayne Whittle to bring the arena back into use.
Mr Whittle said: "We own all the land - so if they want to play hard ball they're in for a rough ride.
"We're really trying to help. It is our hope to bring ice skating back to the Isle of Wight."
The authority said AEW's lease stated the seafront arena "should be in use at all times."
'Strong demand'
AEW, which previously said the rink was not "financially viable", has put the arena up for sale at £3.5m or rent of £140,000 a year.
The Raiders, the island's only ice hockey club, said since the rink's closure the team had been forced to fold.
In a statement, the team's manager, Geoff Underwood, said "There is a very strong community demand for the rink.
"Ice hockey is only one sport that relies on the rink, but The Raiders organisation will do everything we can to help get the rink back into use.
"I sincerely wish that AEW could see the damage that they have done to our community, and come to their senses."
AEW UK has not yet responded to a BBC request for a comment.