M3 Winchester closure: 'Flammable material cause of delays'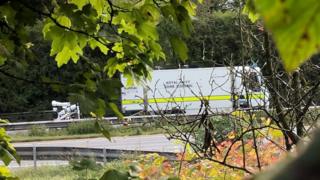 An unknown flammable material, thrown from a motorway bridge, caused the closure of the M3 which led to major travel disruption, police have said.
Thousands of motorists were caught up in long queues on the motorway and surrounding roads in Winchester.
A bomb disposal team was sent to the scene of the closure between junctions nine and 11 at Winchester on Saturday.
However, the material was found not to be explosive. It is not being treated as a terror incident, officers added.
The motorway was closed in both directions from about 04:00 BST, but had fully reopened by about 15:30.
Hampshire Constabulary said officers had been working with the Explosive Ordnance Disposal (EOD) team to establish exactly what the material was that was thrown from the bridge leading to St Catherine's Hill.
It said assessments were ongoing.
Police said they were also investigating a similar case on the same bridge at about 04:00 on 16 September, when an object was dropped onto the carriageway and there were also reports of a fire.
On that occasion officers found "a quantity of broken glass" but no fire.
No-one was hurt on either occasion.
Police said there was "no wider risk to public safety" following Saturday's disruption, which led to queues of up to three miles (nearly 5km) in both directions on the M3.
Manchester United and Southampton FC fans were among those held up.
United fan Paul Hibbert resorted to leaving the coach he was travelling to St Mary's Stadium on and made the one-and-a-half-mile (2.4km) final leg of the journey by foot.
A number of motorists took to social media to express their frustration, with some criticising how the closure was dealt with by the emergency services.
Others shared pictures of the scene, including one showing a man doing a handstand on the carriageway, while another practised his golf moves.