Isle of Wight E. coli outbreak linked to raw milk from farm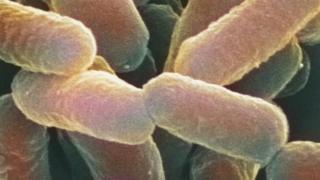 Three people have a potentially fatal kidney condition following an outbreak of E. coli which has been linked to unpasteurised milk from a farm.
The Isle of Wight patients are being treated in hospital for haemolytic uremic syndrome, a complication of E. coli that can lead to kidney failure.
Another four people affected by the bacteria have made a good recovery, Public Health England said.
The source has been traced to Briddlesford Lodge Farm near Newport.
Dr Ishani Kar-Purkayastha from Public Health England said the raw milk had been removed from sale.
"We are asking anyone who has raw milk purchased from Briddlesford Farm on, or before Monday, 25 September 2017, to either return it to the farm or dispose of it," he said.
In a statement, the farm said: "We are especially concerned about the well-being of those affected by this bug, and we wish them and their families every good fortune at this terrible time."
The outbreak has been identified as the E. coli 0157 strain.
Professor Guy Poppy, chief scientific adviser at the Food Standards Agency (FSA), said: "Unpasteurised or 'raw' milk may contain harmful bacteria that cause food poisoning because it has not been heat-treated.
"Long-standing FSA advice has been that older people, infants, children, pregnant women and those with weakened immune systems, who are more vulnerable to food poisoning, should not consume raw drinking milk."
E. coli O157 is found in the gut and faeces of many animals, particularly cattle, and can contaminate food and water.
Outbreaks of O157 are rare compared with other food-borne diseases.