New Forest after-dark running event plan criticised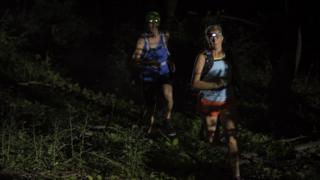 Plans to stage an after-dark running event through the New Forest have been criticised by conservation groups.
The Maverick Silva Dark Series race - which promises an "amazing experience" for participants running in the dark - is set to take place at the forest for the first time on 2 December.
The Commoners Defence Association said such events would potentially disrupt the national park's "tranquillity".
Race organisers said the route would "minimise disturbance".
More on this and other stories from across the South of England
Places on the race, scheduled for 17:00 GMT, are currently selling for up to £30.
The company organises cross-country running events across England and Wales, including other Dark Series races in Surrey and Sussex.
'Dangerous precedent'
Dr Tony Hockley, of the Commoners Defence Association, said the prospect of organised night-time events was an "abuse" of the New Forest.
"It's a dangerous precedent which would be set for cycle events or orienteering at night - a tranquil time for the forest," he said.
"The risk of animals being spooked is higher at night - they could run across a road or accidentally run into barbed wire."
In a statement, the Forestry Commission said it aimed to "balance the needs of people, nature and business" when issuing permits for events on crown lands.
It said it was "unfortunate" the event was publicised before formal permission was issued and it was working with organisers over a route "on robust tracks that avoid sensitive wildlife habitats or areas where forest stock roam freely".
Maverick director Ben Macwilliam said he had been working with the Forestry Commission on a specific route that was "sensitive" to the forest.
"Many people don't like going out running on their own in the dark in winter, so this gives them a really good, safe environment to enjoy," he said.
Mr Macwilliam said he expected most runners would finish by 18:30.