Ex-Tory MP Flick Drummond quits as deputy Hampshire PCC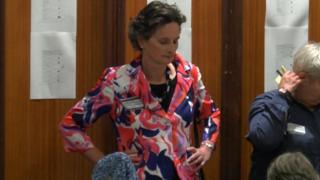 A former Tory MP has quit as deputy police and crime commissioner (PCC) for Hampshire and the Isle of Wight, weeks after starting the job.
In a joint statement with PCC Michael Lane, Flick Drummond said it was "not possible [for them] to build a professional relationship".
Mr Lane said he was disappointed the pair had not developed a "close rapport" as hoped.
Mrs Drummond was formally confirmed in the £64,000-a-year post, on 6 October.
In the joint statement announcing Mrs Drummond's departure "by mutual consent", Mr Lane said: "The relationship between a PCC and his deputy has to be close and, unfortunately, it has become apparent this could not happen in this case.
"It seemed we had complementary skills that would have enabled the close rapport needed to work together and add value for the people we serve, to keep them safer. This is a disappointment to us both."
Mrs Drummond, said "Sometimes it is not possible to build a professional relationship between two people, through no fault of either party."
She said she would pursue her ambition to be re-elected to Parliament, having lost her Portsmouth South seat after two years in June's general election.
'Most bizarre'
Mr Lane, who was elected PCC in May 2016, announced the appointment of Mrs Drummond on 5 September.
Speaking at the time, he said: "Flick's depth of experience both as an MP representing Portsmouth South in Westminster, and locally in her many roles within the community, gives her the qualities I need to support me in delivering my police and crime plan."
Labour's Stephen Morgan MP who defeated Mrs Drummond in June, said her departure was "most bizarre".
"At a time when crime is increasing and police resources are being cut, I urge the commissioner to prioritise Portsmouth. He must use Ms Drummond's £64,000 salary to fight crime and provide much-needed uniformed presence on our city's streets."