Buffer zone plan for Portsmouth abortion clinic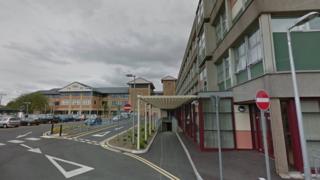 A council is considering create a buffer zone around an abortion clinic in a bid to curb protests outside.
Pro-life campaigners have been protesting alongside pro-choice counter-protesters outside Portsmouth's St Mary's Hospital.
The city council voted to fully explore "every available option... to provide the necessary reassurance and security that all women need".
A public spaces protection order (PSPO) is one solution being considered.
It follows moves by Ealing Council to introduce a PSPO to halt protests outside the Marie Stopes clinic in the London borough.
'National problem'
Thirty-one councillors at Portsmouth City Council voted in favour of "exploring every available option" to protect people visiting the clinic. One councillor voted against the motion and there were three abstentions.
A spokesman for the British Pregnancy Advisory Service, which runs the clinic, said: "As the council has noted, this is not about shutting down debates about abortion or limiting free speech, but about protecting the rights of individuals to access legal healthcare freely and without intimidation.
"The harassment and intimidation of women accessing abortion services is a national problem in need of a national solution. That's why we will support councils in their efforts, and continue to campaign for new legislation to introduce buffer zones around all clinics."
PSPOs aim to deal with persistent behaviour that has a detrimental effect on the quality of life in a particular area.
Breaches of PSPOs can result in a fine or fixed penalty notice.