Planned £336m hospital for north Hampshire scrapped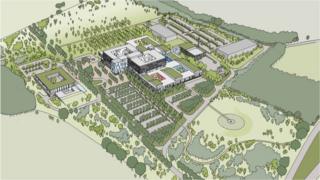 Plans for a new £336m NHS hospital have been thrown out after five years of planning.
The new critical care hospital near Basingstoke, Hampshire, would have been "unaffordable", a meeting of clinical commissioning groups (CCGs) heard.
Basingstoke MP Maria Miller said their decision failed to take account of "huge" population growth.
The CCGs said community-based health services would be "strengthened and expanded" to help existing hospitals.
The new hospital had promised 24-hour consultant-led care for patients who had suffered heart attacks, major injuries and other conditions.
But the proposed greenfield site beside the M3 at North Waltham was criticised by villagers who were concerned about traffic, noise and the rural landscape.
The total cost to the NHS would have been £665m over 30 years, Thursday's joint meeting of North and West Hampshire CCGs was told.
In a statement, the CCGs said the hospital was "not affordable, given the financial challenges facing the local NHS".
Ms Miller said the NHS had "wasted" years considering the new hospital and had to "ask some serious questions as to why it can't make decisions more quickly".
Hampshire Hospitals NHS Foundation Trust (HHFT) said the decision was "very disappointing and a missed opportunity".
The trust's chief executive Alex Whitfield said: "This proposal would improve quality and accessibility for our patients, but [NHS joint work] has concluded that it is not affordable with the current ambitious assumptions around spending less on hospital services."
The CCGs said they would concentrate on developing plans to expand care out of hospital, to manage "growing demand" on existing acute hospitals.
Dr Nicola Decker, Chair of North Hampshire CCG, said: "Our community and hospital health and social care workforce needs to be more proactive in the care we are offering our population.
"Working together we can prevent many of the crises that often occur in the emergency department."
Dr Nick Broughton, Chief Executive of Southern Health NHS Trust, said: "Earlier support and care at home can avoid the need for hospital visits, which is better for patients and eases the pressure on busy hospitals."