Attempt to save Southampton respite centre fails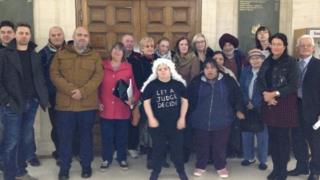 A respite centre has closed after a council vetoed a last-minute attempt to save it.
The decision to shut the Kentish Road centre in Southampton had been "extraordinarily difficult", the city council's ruling Labour group said.
It overruled a scrutiny committee's call on Wednesday for the closure to be reviewed.
The council previously said it would save £300,000 a year by closing the site.
However, a revised figure showed £104,000 would be saved in the first year, rising to £185,000 in the third year.
'Understandably upset'
Carer Lisa Stead said her son Harrison, who used the centre, would be "dreadfully upset" and "worried about where he will see his friends".
Another mother of a service user, Amanda Guest, said: "We feel they are putting disabled people at the bottom of the pile."
Labour council leader Simon Letts said it was an "extraordinarily difficult decision".
"No one on my side came in to politics to make things more difficult for people with disabilities," he added.
"When you have got a child with learning disabilities familiarity and certainty is a really important part of it. When that is taken away people get understandably upset."
Mr Letts said a "smaller and more sustainable unit" would be opened on the same site.
He said: "It may take two or three months to get there and that could be a difficult time for the families."
In a statement, the council said a "suitable care alternative" had been found for all current clients, including a new scheme at Weston Court.
Previously the council said it needed to make £120m of cuts over seven years.