Row over '80%' New Forest workers' rent rise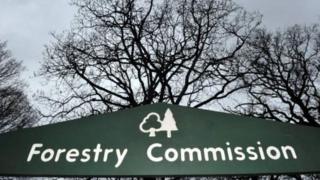 Workers in a national park face losing their homes if "draconian" 80% rent rises go ahead, a union has claimed.
Unite said the Forestry Commission planned to increase housing rent for about 25 employees working in the New Forest National Park, who each earn about £21,000 per year.
It said the commission wanted to raise the rents by 40% in January and by the same amount the following January.
The Forestry Commission said the figures were "misleading".
However, it has not explained why.
The commission also said the timescale for the rises was set over four years, not two, but did not say when the timescale began.
"The very few rent increases already proposed have not been demands, and tenants have had the opportunity to negotiate," it added.
'Scaremongering'
Unite said an average rent was currently about £600 a month and was due to rise by an average of about £400 in two years.
Regional officer Richard White said: "Unfortunately, we have not been able, so far, to change the commission's mind and these draconian rent rises are set to go ahead in the new year."
He said the workers, including carpenters who carry out maintenance in the forest, "won't be able to afford these increases, so will be forced to give up their homes and seek accommodation elsewhere".
Bruce Rothnie, of the Forestry Commission, said: "I am disappointed to read the scaremongering information from the Unite union that does not help our discussions with them and our tenants in the New Forest."
He said Unite had been "actively involved in agreeing the process that is now under way".
He said the commission had offered tenants financial support when proposals for rent reviews were made.
Unite said it was due to have another meeting with commission surveyors on Friday.
Previous proposals to hike rents for workers were reported in August last year, when tenants said they were asked to pay between £650 and £900, instead of £500 a month previously.