Black Arrow rocket tribute set for aviation museum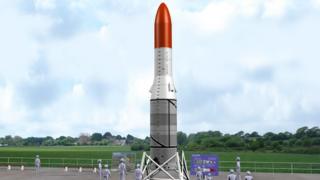 Work on a full-size replica of the rocket which took the UK's first satellite into space is due to start in the spring, its organiser has said.
Black Arrow was tested near The Needles on the Isle of Wight before it launched the Prospero satellite in 1971.
Space enthusiast Richard Curtis is hoping to build and display a 14m (46ft) replica at the island's planned new aviation museum.
He said the response to the project had been "very positive".
Mr Curtis said discussions were under way with a local manufacturer to build the aluminium main body of the rocket, while a team from wind turbine builders Vestas Technology UK would make the red nose cone section using glass fibre.
He said the rocket development facility on the Isle of Wight coast was the "nearest thing Britain had to the Kennedy Space Centre".
"Everyone we've spoken to has been very enthusiastic about it," he added.
"Not many people seem to know about the rocket programme, so it's about telling the story to make it more widely known."
The project has become part of the newly-formed Wight Aviation Museum, which is also aiming to open in the spring.
It will tell the story of aviation on the Isle of Wight over the last 120 years. Part of this will include a section on the rockets that were built and tested on the island.
---
The Isle of Wight's rockets
The Isle of Wight played a key role in Britain's space and nuclear missile programme in the 1960s and '70s
The rocket test site at High Down was converted from an old gun emplacement, and was used to test liquid rocket fuel engines
Some 200 people were employed
A rocket called Black Knight was built to test how rockets behaved both in space and when they re-entered the atmosphere
Its successor, Black Arrow, launched the Prospero satellite in 1971 from Woomera, Australia - the only British satellite successfully launched by a British rocket
Funding for the space project was withdrawn in favour of developing the supersonic plane Concorde
---