Plans to demolish Lyndhurst 'Conan Doyle' hotel refused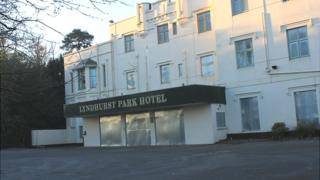 Plans to demolish a hotel with links to Sherlock Holmes author Sir Arthur Conan Doyle have been refused for a second time.
PegasusLife had reapplied to demolish the Lyndhurst Park Hotel in Hampshire to build more than 70 retirement flats.
New Forest National Park Authority (NPA) planners said the Conan Doyle link "raised its heritage value".
Refusing the plans, they added there was "no guarantee the development would help cater for local needs".
The building was originally built as a private mansion house - Glasshayes House - in the early 19th Century.
New Forest historian Brice Stratford said Conan Doyle, who although never worked in architecture had a hand in designing elements of several buildings, sketched plans for a new facade and a third-floor extension to the hotel in 1912.
These are thought to be the last surviving examples of his architectural work.
Community victory
Mr Stratford said the "right decision" had been made by planners.
"The degree of public engagement demonstrates how much this heritage asset is held in people's hearts and is part of local culture. It's a victory for the area and the community," he said.
Developers had added 15 "affordable homes" to plans after initial proposals were rejected in February.
More than 850 objections were received during a consultation, many calling for affordable housing for younger people.
PegasusLife had maintained the development was "a sensitively designed scheme that enhances the character" of the area.
Director Guy Flintoft said was decision was "disappointing".
"We are in the midst of a housing crisis: suitable retirement and care housing developments are an efficient way to create more movement in the market because when people find great places to downsize to, more family homes are made available in the local area, further benefiting the local community."
He said the company would take time to consider its next steps.