Troubled Cowes 'floating bridge' ferry back in service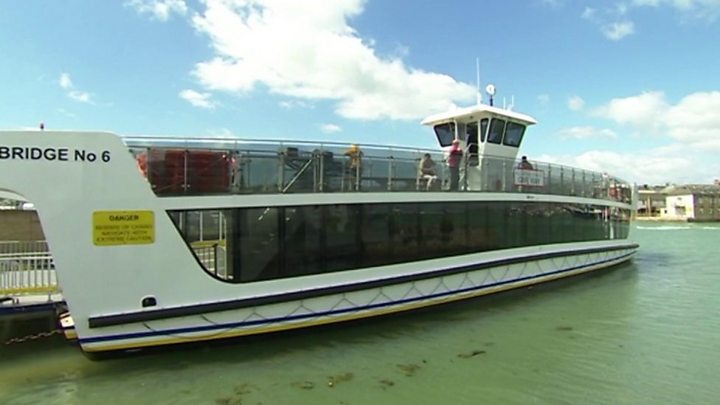 A chain ferry which was withdrawn after numerous technical failures and damage to vehicles is to return to service.
The troubled Cowes floating bridge was suspended on 4 September, four months after the £3.2m vessel began operating.
A replacement has been operating for foot passengers, while vehicles have had to take a 12-mile (19km) detour.
Isle of Wight Council said the service would restart on Monday as part of an extended trial but warned it may be stopped or reduced at certain times.
The council said foot passengers would be able to travel for free between 23 December and 2 January.
Following its launch in May, numerous vehicle owners said they scraped their bumpers due to the angle of the ramps on the slipway.
Twelve people have so far claimed compensation.
Council leader Dave Stewart said: "There has been significant progress and a great deal of determination to get the floating bridge back into action before the busy Christmas period.
"The trial period could mean that the floating bridge may need be taken out of service or not operate a full service at certain times. However, the intention is that it will operate as closely to the published timetable from now on."
Council chief executive John Metcalfe said the council had "not been able to address every issue" while the ferry was out of service.
He said its chains needed further adjustment and more work was needed to address noise issues.
Mr Stewart thanked residents and businesses for their patience and said a report into what went wrong would be published in the New Year.
---
Floating bridge timeline:
13 May - Vessel launched
14 May - Broke down
15 May - Service suspended by MCA
7 June - Ran aground
9 June - Ran aground for a second time
9 June - Council said it had cleared "silt build up that caused the floating bridge to ground"
10 June - Ran aground a third time
13 June to 3 July - Taken out of service at low tide
30 June - Broke down due to electrical fault
21 July - Withdrawn from service at night due to noise levels
4 September - Withdrawn from service indefinitely
11 December - Service to resume as part of extended trial
---