Isle of Wight school owes £2.7m after 'ill-judged' deal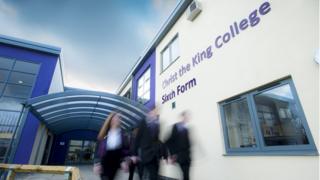 A school has run up "one of the biggest overdrafts in the educational system" in an "ill-judged" lease agreement for a new building, a council has said.
Christ the King College, Newport, Isle of Wight, agreed in 2013 to pay £10m over 15 years for a sixth-form block.
The island council said it would no longer advance money to support the school's growing £2.7m debt.
The college said it "refuted" the claim that the council had not approved the original lease arrangement.
'Poor management'
It said the council's former chief executive, Steve Beynon, wrote to the college in 2013, saying: "The Council approves the entry into the Hire Contract by the Governing Body."
Council leader Dave Stewart said the school governors, "operating independently", had entered the leasing arrangement with Built Offsite Ltd "without a clear and affordable business case."
"We will not condone this poor financial management and we are not prepared to saddle this council and this island with debts of this level for years to come," he said.
He said the school had presented "no credible plan" for recovery, despite repeated requests.
Councillor Paul Brading, in charge of education, said the debt was one of the biggest among schools and was accruing interest at a rate of £98 a day.
He said the college had defaulted on its latest £650,000 annual payment in September.
Mr Brading said the council's Conservative administration became aware of the issue when it took over in May.
He said the authority had never made extra payments or loans to the college and had not suffered financially.
Christ the King, a joint Church and England and Catholic college, said it was "working relentlessly" to find a solution.
It said it wanted to reassure parents and pupils that "education with us continues to be secure".