Itchen Bridge: Plan to drop toll for electric cars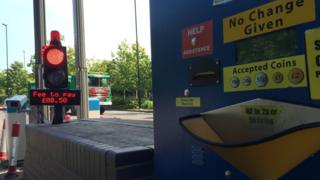 Electric cars could cross a toll bridge for free under new proposals which aim to improve air quality.
Southampton City Council wants scrap the charges on Itchen Bridge, which links Woolston to the city centre, to encourage the use of electric vehicles.
The council said it expects to see a loss of about £32,000 in the first year as electric vehicles currently represent about 1% of road traffic.
Fees vary from 50p to £25 depending on the size of vehicle and time of travel.
The authority has been told by the government to introduce a clean air zone to reduce pollution by 2020.
A report due to be discussed by the council's cabinet said the authority is "committed to encouraging greater use of electric vehicles (EV) within the city to aid the city council's targets to improve air quality".
If approved, the scheme could be introduced from March 2018. A decision is expected on 19 December.
The concession would remain in place until air quality standards have improved.
Reconsidered
However, if the use of electric cars on that stretch of road increases - or the bridge needs works - the free toll scheme could be withdrawn.
The report adds: "If uptake of electric vehicles became such that there was a significant impact on traffic using the route, then the amendment to the toll order would need to be reconsidered."
The bridge sees about seven million crossings a year with tolls generating an annual revenue of approximately £3.2m.
Southampton is one of five cities, along with Birmingham, Leeds, Nottingham and Derby, forecast to exceed EU air quality limits beyond 2020.