Boomtown Fair: Organisers plan for 80,000 capacity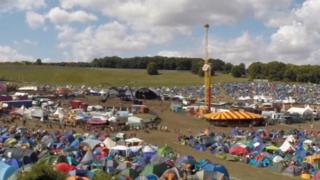 A music festival has announced plans to expand its capacity by a third.
Organisers of Boomtown Fair near Winchester have applied to increase numbers from 60,000 to 80,000, as well as raising the volume of music on the main stage.
Festival-goers faced long delays getting into the event in August due to technical problems.
BoomTown Fair insisted the increase in traffic to the site on the A31 could be "effectively managed".
It has submitted an application to Winchester City Council to increase the capacity of numbers attending the four-day event at Matterley Bowl.
Speaking at a consultation event held at nearby Itchen Abbas, local county councillor Jackie Porter said the transport issues have a "huge impact" on local people.
"Particularly on the day when everyone leaves at once, it results in taxi drivers not being able to run services and people not getting to appointments," she added.
Anna Wade, from Boomtown Fair, said transport management had got "so much better" in recent years.
"We'd like to reassure people that we're not just adding people in and not adding to our plans.
"We're not going to say 'there isn't going to be traffic' but we can manage it and manage it effectively."
Some people reported fights, fainting and sunburn as they faced long delays entering the 2017 festival, with organisers blaming a technical glitch with the wristband system as well as increased searches and delays opening the site gates caused by bad weather.
Eighty-two cars were destroyed when a lighted cigarette ignited grass stubble in a car park at the festival in 2016.
The 2018 event is due to take place on 9-12 August, with Gorillaz already named as headliners.
A public consultation on the plans is open until 8 January.