Driver pleads guilty to causing New Forest cyclist's death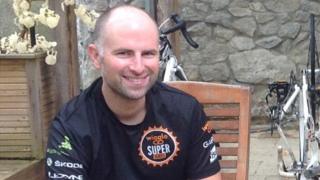 A motorist has been given a suspended prison sentence for causing the death of a cyclist.
Kieran Dix, 36, died in hospital two months after he was hit by a car which drove through give-way lines at Ipley Cross in the New Forest.
The driver, Viral Parekh, 23, pleaded guilty at Southampton Crown Court to causing death by careless driving.
He was given an eight-month prison sentence, suspended for two years, and ordered to do 250 hours of unpaid work.
Parekh, formerly of Deacon Road, Southampton, and now living in Crawley, was also disqualified from driving for three years.
The court heard Mr Dix, from Eastleigh, had the right of way when he was hit at the junction between Applemore and Beaulieu Road station on 2 December 2016.
The judge said Parekh made a "serious misjudgement" and should have slowed down to check the road was clear.
Mr Dix died of his injuries at the Royal Hampshire County Hospital, Winchester, on 7 February.
In a previous tribute, his family said he was a "serious cyclist" who had independently ridden some of the mountainous stages of the Tour de France.