Toilet selfie mum posts Advent nativity scene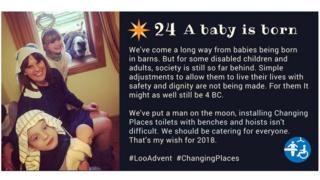 A disability-rights campaigner who posts selfies on the loo has completed her Advent calendar with a scene featuring her children and a donkey.
Sarah Brisdion from Hampshire began campaigning for better public toilet facilities after experiencing difficulties with her son, who has cerebral palsy.
From 1 December she posted pictures of herself on the loo in various costumes.
She described the whole experience as "slightly bonkers".
Mrs Brisdion, from Brockenhurst, wants more venues to install hoists and changing benches for those who wear nappies or pads.
Her Hadley's Heroes campaign came about because her son Hadley often had to lie on toilet floors to be changed.
She posted her final Advent nativity picture saying: "We've come a long way from babies being born in barns [but] it might as well still be 4 BC".
She told the BBC she acquired the donkey Fleur, used in the photo, by asking a friend at the Riding for the Disabled Association.
"We were all in hysterics trying to get a photo where we were all not pulling a ridiculous face," she said.
Mrs Brisdion described her December as a "bit surreal, but brilliant".
She said: "The support has been amazing. I had no idea it would be so well received.
"People have shared it, and have been sending me their loo selfies which is just even better.
"There's been a few negative comments... but it's literally been two or three amongst hundreds of people saying well done and thank you."
She added: "Hopefully it'll help to put some pressure on some businesses and we might get some good news in the new year."
The Hadley's Heroes campaign has successfully helped to complete the so-called Changing Places toilets at Portsmouth International Port and New Forest District Council in Lymington.