Floating bridge report: Crew 'not familiar' with ferry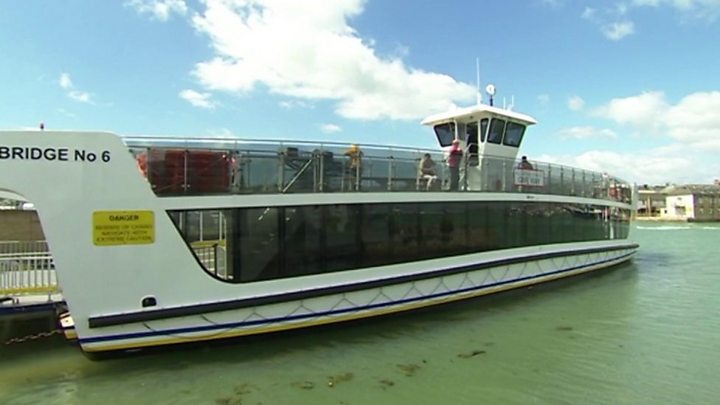 A report into a troubled chain ferry says its crew had insufficient time to familiarise themselves with the vessel.
Cowes floating bridge was suspended in September - four months after the £3.2m ferry launched - following breakdowns, groundings and noise issues.
The report into the problems noted some of the ship's main drive wheels now also needed replacing.
Isle of Wight Council's scrutiny committee meets on 9 January to consider the findings.
Floating Bridge 6 re-entered service on 11 December after being suspended for more than three months.
Before it was suspended, numerous drivers damaged their vehicles on the slipway.
The vessel also ran aground, broke down and was the subject of noise complaints.
Independent advice
The report said although the crew members were highly trained, they were given insufficient time to familiarise themselves with the vessel.
Further training had enabled them to bring the ferry closer to shore, reducing the risk of vehicle damage.
The report said insufficient clearance above the ship's chains contributed to it grounding at low tide and independent advisers were exploring how the problem could be resolved.
It said cast iron drive wheels needed replacing with harder-wearing steel and the wear was contributing to noise problems.
The report said issues which were the subject of legal discussions did not form part of the review.
Council leader Dave Stewart said: "This report is not about apportioning blame - it is about ensuring that when we have high value, high profile or complex technical projects in the future, we get them right."
During the ferry's suspension, a replacement operated for foot passengers, while vehicles had to take a 12-mile (19km) detour.
The council said foot passengers would be able to travel free between 23 December and 2 January.
---
Floating bridge timeline:
13 May - Vessel launched
14 May - Broke down
15 May - Service suspended by MCA
7 June - Ran aground
9 June - Ran aground for a second time
9 June - Council said it had cleared "silt build up that caused the floating bridge to ground"
10 June - Ran aground a third time
13 June to 3 July - Taken out of service at low tide
30 June - Broke down due to electrical fault
21 July - Withdrawn from service at night due to noise levels
4 September - Withdrawn from service indefinitely
11 December - Service resumed as part of extended trial
---