Sexual assault in Portsmouth university's Ravelin Park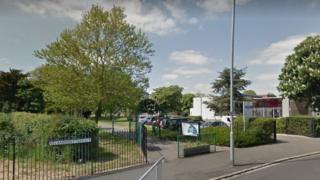 A 20-year-old woman has been sexually assaulted in a university campus park.
She had been attempting to get away from a man who had approached her in Museum Road, Portsmouth, when she was attacked, police said.
The attacker pushed her to the ground in the nearby University of Portsmouth's Ravelin Park at about 19:20 GMT on Saturday.
He ran away towards Burnaby Road after the assault, said Hampshire police, which has appealed for witnesses.
The suspect was described as white, middle-aged, 5ft 9ins tall, with stubble on his face and a deep voice.
Insp David Knowles said patrols had been increased in the area to reassure residents.
"The woman was left very shaken and scared," he said, "however I would like to reassure the community that this type of incident is not common."