Woman dies after fire breaks out at flat in Fareham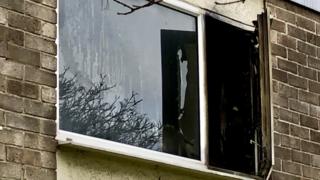 A woman has died in a fire at ground floor flat in Fareham, Hampshire.
Fire crews found the 56-year-old woman when they broke into the flat at Minden House, Redlands Lane after the fire broke out shortly after midnight.
The badly-injured woman was taken to Queen Alexandra Hospital in a life-threatening condition. She died a short time later.
A joint police and fire service investigation into the cause of the fire is under way.
Hampshire Fire and Rescue Service said a passer-by called 999 after hearing the smoke alarm going off inside the three-storey building.