WW2 Spitfire pilot Mary Ellis given Freedom of Isle of Wight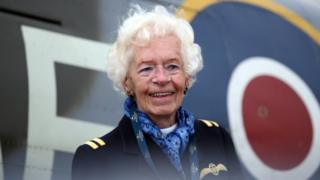 A woman who delivered Spitfires and bombers to RAF airfields during World War Two has been awarded the Freedom of the Isle of Wight.
Councillors voted to honour Mary Ellis, 100, the last known surviving pilot of the Air Transport Auxiliary (ATA).
Isle of Wight Council leader Dave Stewart described her an "national, international and Island heroine".
The ATA ferried aircraft and pilots throughout the war until the service was disbanded in November 1945.
Mary Ellis, then Mary Wilkins, joined the ATA in 1941 after hearing an advert for women pilots on BBC radio.
Women were allowed to fly military trainer and communications aircraft from 1940.
Mrs Ellis delivered around 1,000 aircraft on her own - including Spitfires and Wellington Bombers - to the RAF equipped with only a compass, stopwatch and map to find the airfields.
The work carried out by the ATA was vital to the war effort in keeping squadrons replenished with aircraft.
After the war Mrs Ellis moved to the Isle of Wight and managed Sandown Airport from 1950 to 1970.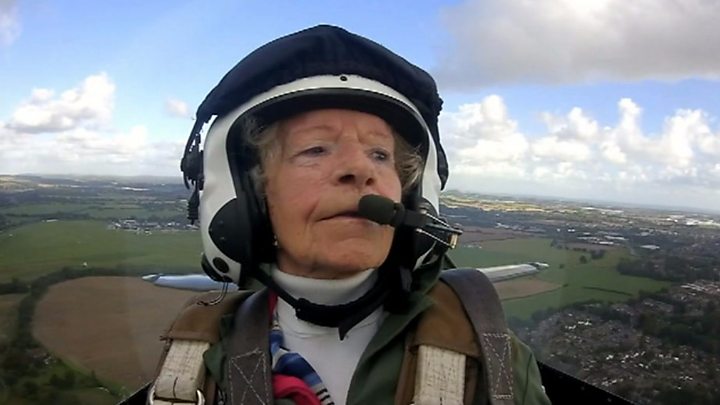 On receiving the award at a council meeting in Newport, Mrs Ellis said she was "very honoured".
"Although I have travelled extensively during my life, the Island has always been home and is such a special place to me. Thank you for granting me the Freedom of this wonderful Island."
Mr Stewart said: "She is one of the last of the finest generation who did so much to guarantee our freedom 70 years ago."
Other individuals who have been awarded the Freedom of the Isle of Wight include the late Oscar-winning film director Antony Minghella and record-breaking yachtswoman Dame Ellen MacArthur.
Women in the ATA
The first eight women pilots joined the ATA in January 1940
They were among the first women in the UK to achieve equal pay, earning a fifth less than men until 1943
Initially restricted to non-operational aircraft, women flew fighters from July 1941 as aircraft production and casualties rose
In September 1942, Lettice Curtis became the first of 11 women to fly a four-engined bomber during WW2
168 women, including volunteers from the USA and other nations, served in the ATA during the war
About 15 female ATA members were killed during World War Two, including aviation pioneer Amy Johnson