Plans for Hampshire specialist police cuts 'devastating'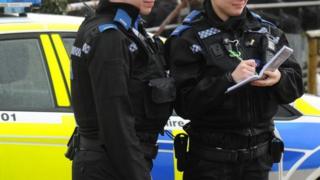 Hampshire police's plans to cut officers from its specialist teams are "devastating", the head of the county's police federation has said.
The force is planning to reduce 110 officers and 52 police staff from 14 teams to save £8m.
John Apter, chairman of Hampshire Police Federation, said the teams provided "critical policing".
The reductions come from areas including its dog, surveillance, roads policing and force support units.
Officers cut from the specialist units will be moved to other departments.
'Essential teams'
Mr Apter said: "Specialist departments are the target of these cuts - these are not 'nice to have' teams, these are essential teams.
"The force support unit is a team of officers who deal with the most violent offenders - that will put rank-and-file officers at risk because they will now have to deal with them."
Mr Apter said the force's marine unit, which was set to be disbanded in April 2019, was now under review.
Hampshire Police and Crime Commissioner Michael Lane said the force still had the "right resources" to keep the public safe.
Mr Lane added the cuts to the dog section, which works across the Thames Valley, Hampshire and Isle of Wight, was "a managed reduction".
Police chiefs will meet to consider the proposals in Winchester on Friday.