Chris Packham in bid to save East Cowes umbrella tree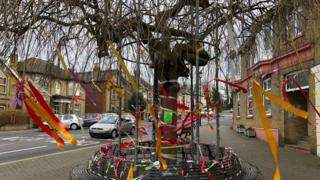 TV wildlife presenter Chris Packham has joined a campaign to stop a tree on the Isle of Wight being cut down.
The umbrella tree, planted in East Cowes more than 100 years ago, is facing the axe because it has fungus.
Packham, a presenter of the BBC's Springwatch series, said the tree could be saved and urged the council to "listen to your community and fix it rather than fell it".
Isle of Wight Council has been approached for comment.
Dozens of ribbons have been tied around the tree, which stands at the junction of York Avenue and Clarence Road, by residents campaigning to save it.
Packham, whose partner Charlotte Corney owns Isle of Wight Zoo, said in a tweet: "Trees aren't for councils, they're for life. Long life, many lives, the lives of many things."
He said he had been told the fungus, although visible, was "not extensive".
"There are offers to assess it, treat it and shore it up," he said.