Snake expert doubts pet python killed Daniel Brandon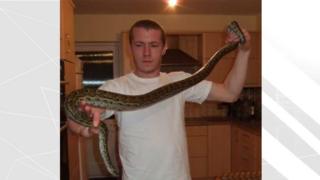 A leading snake enthusiast has questioned whether a pet python was responsible for killing its owner.
Daniel Brandon, 31, died from asphyxiation at his home near Basingstoke, Hampshire, in August.
A coroner ruled there was no doubt his death was "as a result of contact" with his 8ft (2.4m) pet python named Tiny.
Chairman of the Federation of British Herpetologists Chris Newman said: "I frankly don't see how the snake could have been responsible due to its size."
He said he was "very circumspect" about the ruling.
Mr Brandon had kept snakes for 16 years and Tiny was one of 10 in his room at the family home, his inquest at North Hampshire Coroner's Court heard.
His body was found unconscious in his bedroom with the python coiled under a nearby cabinet. Coroner Andrew Bradley recorded a verdict of misadventure.
Mr Newman said the case should not be used to raise safety concerns about keeping snakes.
"Any animal has the potential to be dangerous - the question is was this snake responsible and I think the answer to that is 'no'," he said.
While there are no official figures, he estimated there were about 10,000 constrictors kept in the UK.
"This is the first death or serious injury in the last 100 years of snake keeping and there really isn't the evidence to show the snake was directly involved in this case," Mr Newman said.
Pythons kill by wrapping themselves round their prey and squeezing tighter and tighter but they rarely kill humans.
Unpredictable
Another snake expert, Geraint Hopkins, said it appeared to be a "tragic accident" and such animals should never be kept as pets.
He told BBC Radio Two's Jeremy Vine Show he had long feared that "someone will get killed someday".
"Rock pythons are extremely strong. There is no such thing as a pet snake. They are all wild reptiles and very unpredictable. There is no way that unfortunate young man could have got that snake off on his own," he said.
"They are not affectionate - if they don't feel safe they will tighten up on you."
Mr Hopkins said two people should always be present when handling a python in case it needs to be unwrapped.
The RSPCA, which was not involved in the case, said it encouraged potential owners to follow its guidelines for exotic pet species whose " environmental, dietary and behavioural needs can be challenging".
The African Rock Python is not on the list of species which require owners to have a licence under the Dangerous Wild Animals Act.
---
The African rock python
Scientific name is Python sebae
Can reach lengths of up to 7m and weights of 90kg
Native to Sub-Saharan Africa
They are non-venomous but have a devastating power to constrict their prey before swallowing it whole
In the wild, they can prey on animals such as monkeys, warthogs, antelopes and even crocodiles
Source: BBC Nature
---