Council wins government funding for £26m Botley bypass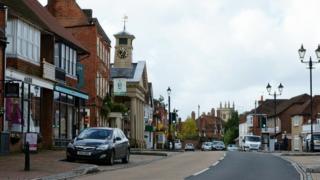 A planned £26m village bypass has won government funding as part of a scheme to build more than 1,000 new homes.
The 1.1 mile (1.8 km) road around Botley has been allocated £10m from the Housing Infrastructure Fund.
Hampshire County Council, which applied for the money, said the bypass would "dramatically improve the quality of life" in the village.
It said it was preparing to submit a planning application for 1,025 homes at Uplands Farm in the spring.
Councillor Rob Humby, in charge of transport, said the long-awaited bypass would remove through traffic, helping to reduce noise and to improve air quality.
The bypass would divert vehicles on the A334 along an improved Woodhouse Lane on the north-west side of the village and a new road near the railway line to the north-east.
The Uplands Farm development, on the north edge of the village, would include a new 1,000-place secondary school and employment space.
The government said the grant was part of a £866m fund "to fix the broken housing market" and deliver up to 200,000 new homes in England.